About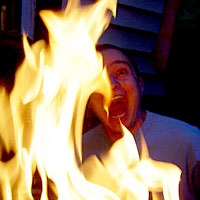 The Meatwave is a summer BBQ series and blog run by Joshua Bousel.
The Meatwave has grown into a full blown addiction since it's humble beginnings in 2003, when it was no more than a tiny, cheap grill with a few people huddled around, at my (then new) Astoria, NY "cottage."
I now host a different Meatwave regularly during the summer months. I'm constantly trying new things to grill and smoke, and improving on old ones. I grill with a 22" kettle and barbecue with a Weber Smokey Mountain Cooker, mostly using Kingsford charcoal.
After five years of this, I think that I have something to share with the world about my (mis)adventures in grilling and barbecue, so started this blog to help spread the Meatwave gospel.
I am not a professional chef or food writer, and I don't strive to be either. I'm actually a web designer and developer, and created this site with my own bare hands (not forgetting the sweat and tears too) using XHTML, SAJAX, PHP, MySQL, Javascript, and CSS. I build custom websites and I'd love to make you one, just ask.