Loaded Salchipapas
I'm not much for New Year's resolutions that involve any restrictions on food. I think you should end the year eating what makes you happy, start the year eating what makes you happy, and just continue that trend until you arrive back at the next New Year's. For me, one surefire way to either end or begin the year on a high note would be to whip up a batch of these loaded salchipapas. I often order salchipapas when I see it on the menu, and while I'm used to the normal incarnation of this snack/side dish of french fries and hot dogs, while I was in Colombia, I experienced a version that was taken to the next level with an array of additional toppings including bacon, cheese, and multiple salsas. This over-the-top incarnation of salchipapas felt like a very Meatwave-like way closeout another year of great recipes.
The central component of any salchipapas is going to be the fries. To be totally honest, in my experience, the fries that often are used for this dish are a little lackluster, too often pale and soggy. I thought I could do a bit better with my french fry know-how that involves first slicing russets—a mandoline is great here to make quick and consistent work of slicing—and then soaking them in water. The water both washes away some exterior starch and keeps the potatoes from turning brown before they're cooked.
The key to the best french fries is double frying. The two-step process is meant to first gently cook and soften the potatoes in lower temperature oil, then get them crispy in higher temperature oil. This results in pillowy soft innards and a crunchy exterior. The first fry is the longer of the two, done in oil at 350°F until the potatoes are cooked through.
You can start to feel the potatoes lose their stiffness while in the oil, but its not really until the fries are out and draining that you can feel the totally limp state of the spuds. There should be little to no browning during this fry, and the potatoes should sag when you pick them up from one end.
Another benefit of the double fry is that once the first fry is done, those potatoes can sit for a long time, or be frozen, before frying again. So that leaves plenty of time to put together the rest of the ingredients for these salchipapas. Bacon was going to be one of those for me, so I diced and cooked up a bunch of thick cut bacon until it was well browned and totally crispy.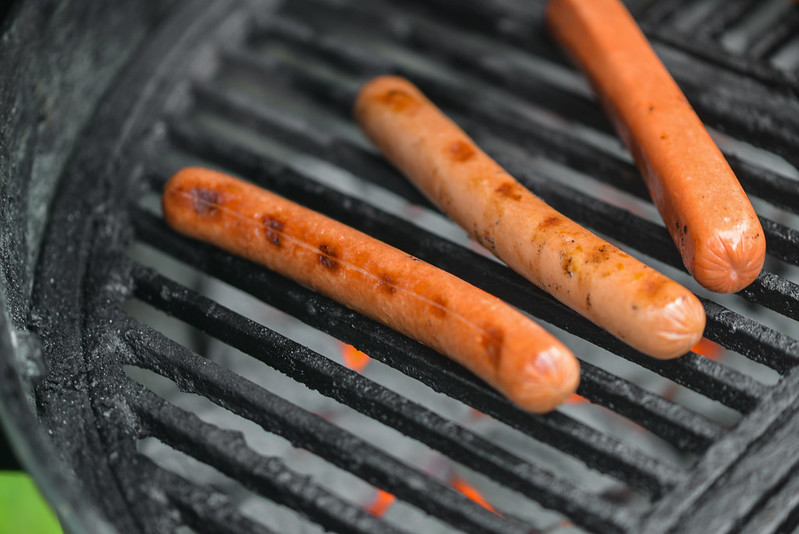 Next I grilled up some hot dogs. I like all-beef franks here, and I used the grill mainly because I already had it going on this particular day. The grill adds a nice flavor to the hot dogs, but I totally understand if you're not firing it up to just cook a small batch of hot dogs for five minutes—you'll be well served using the broiler indoors too.
After the franks were heated throughout, I cut them into 1/2-inch slices on a bias, which has seems to be the preferred preparation for salchipapas.
With bacon, hot dogs, cheese, and salsas all prepped, I was ready to execute the final fry. This time the oil was at 425°F and I was looking to cook the potatoes until they just turned golden brown and crisp. It took about three minutes per batch in the oil for the spuds to get to this state, and between each batch, I monitored the temperature of the oil and allowed it to return to 425°F before frying again.
To assemble the salchipapas, I placed a layer of fries in a serving container and topped with hot dogs and bacon. I then added another fry layer and more hot dogs and bacon. Next I put on a hearty layer of grated queso blanco followed by salsa rosado—a mixture of ketchup and mayo—and creama, which I happened to have on hand, but is not a traditional sauce here.
Now talk about something to make you happy, how could anyone not love this pile of awesomeness! To me, this is junk food at its best, something that is as equally satisfying whether you're just craving it or drunk. I could easily down a ton of this fulfilling plate of crisp fries with hearty meats and complimentary sauces while waiting for the ball to drop or after waking up the next day. Either way, I would have ended or welcomed the New Year with something that brought me a lot of joy.
Loaded Salchipapas
Yield 4-6 servings
Prep 15 Minutes
Inactive 1 Hour
Cook 20 Minutes
Total 1 Hour 35 Minutes
Ingredients
For the Salsa Rosada
1/4 cup mayonnaise
3 tablespoons ketchup
1 1/2 teaspoons freshly squeezed lemon juice from 1 lemon
For the Salchipapas
4 large skin-on russet potatoes (about 2 pounds), cut into 1/4-inch sticks on a mandoline
2 quarts peanut or canola oil
8 oz thick cut bacon, cut into 1/2-inch dice
6 hot dogs
6 oz queso blanco, grated
---
Procedure
To make the salsa rosada: Whisk together mayonnaise, ketchup, and lemon juice in a small bowl. Set aside or transfer to an airtight container and store in refrigerator until ready for use.
To make the salchipapas: Place potatoes in a large bowl and cover completely with cold water. Let soak for at least 1 hour, or, alternatively, drain water and rinse again, changing water until it runs completely clear. Drain potatoes and dry thoroughly with paper towels.
Heat oil in a large Dutch oven or wok to 350°F. Working in batches, add potatoes and cook, stirring and turning frequently until pale blonde, about 5 minutes. Transfer potatoes to a paper towel-lined baking sheet.
Add bacon into a 10-inch skillet over medium-high heat and cook until fat render and bacon crisps. Transfer bacon to a paper towel-lined plate.
Light one chimney full of charcoal. When all charcoal is lit and covered with gray ash, pour out and spread the coals evenly over entire surface of coal grate. Set cooking grate in place, cover grill and allow to preheat for 5 minutes. Clean and oil the grilling grate. Place hot dogs on grill and cook, turning occasionally, until heated through and well browned, about 4 minutes. Transfer hot dogs to a cutting board and cut into 1/2-inch slices on a bias.
Heat oil to 425°F. Add potatoes and cook, stirring and turning frequently, until deep golden brown, about 3 minutes. Transfer to paper towel-lined baking sheet and season with salt to taste.
Place a layer of french fries on a platter or shallow bowl and top with hot dog slices and bacon. Add another layer of fries and top with more hot dogs and bacon. Top with grated cheese and salsa rosada. Repeat assembly with remaining ingredients. Serve immediately.
You Might Also Like
Comments