Al Pastor Wings
Wing month soldiers on, this time with a story of redemption. See, I had the idea for these al pastor wings years ago and made them to results that were less than my standard of quality. I still posted the recipe though on Serious Eats, and it's always irked me that it remains out in the wild while I knew I could do much better. So I finally took another stab at making these Mexican-influenced wings and this time around I got a recipe I can proudly stand behind.
The fault in my initial al pastor attempt was process, not flavor. I used a traditional al pastor marinade on the wings, so they ended up crazy flavorful, but that added moisture also rendered the cooked skins limp and flabby, something I personally find a negative quality in chicken wings. So in reworking the recipe, I needed to move away from a marinade and towards a dry rub, but also try to get as much of that ubiquitous spicy, earthy, and smoky flavor in that makes al pastor so great.
I started with dry chiles, using toasted and ground anchos, guajillo, and chipotles to form the complex pepper base of al pastor. I then added in a few other common ingredients—cumin, oregano, garlic powder, sugar, and salt—along with one uncommon one, baking powder. The baking powder here was used to help get a textured and crisp skin, so it was method-based, and not flavor-based.
After making the seasoning, I placed a few pounds of chicken wings in a large bowl, added in the rub, and tossed until they were all well coated. It's worth mentioning here that my original al pastor recipe I made with standard super market chicken chicken wings, which I've since moved away from, finding the more organic, non-antibiotic chicken to have thinner skin that crisps up better.
Next I arranged the wings on a wire rack set inside a sheet pan and placed them in the fridge to air dry overnight. The air drying removes a lot of surface moisture, allowing the skins to brown and crisp quicker than without this step. The wire rack makes sure air can move all around the wing, making it consistently dried out.
The rub really only got me half way to the full al pastor experience through—pineapple is also crucial here to get that sweet and fruity flavor than contrasts with the chiles. My original recipe just used some diced pineapple added in the end to achieve this, but results were sub par as the pineapple fell off easily and it was missing from so many bites. This time around I decided a pineapple salsa that the wings could be dipped in would provide a better experience, and grilling the pineapple would also get me closer to a more authentic flavor.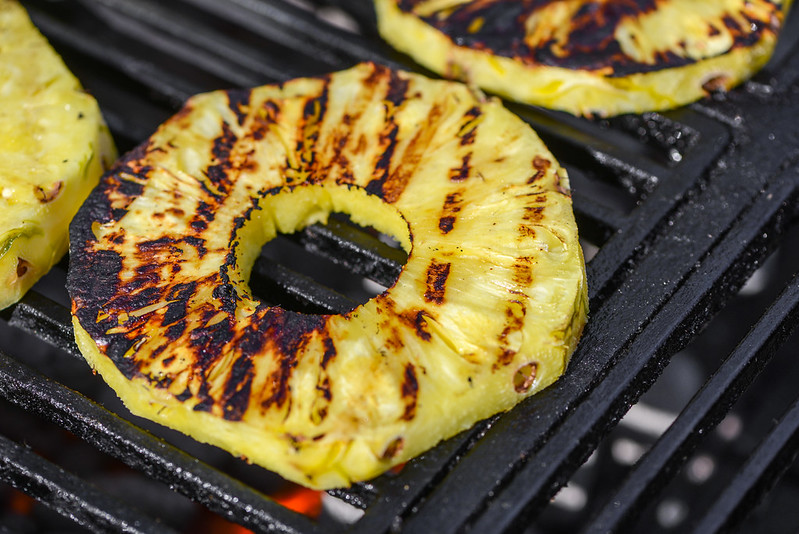 So I sliced up a medium pineapple and grilled it over direct heat until it was well softened and nicely charred. I really love pineapple prepared in the manner and ended up only using half of the pineapple for the salsa, and ate the rest of it for a snack while waiting for the wings to cook.
And the wings did take quite awhile to cook. I put them on in their raw state over indirect, high heat. I then covered the grill and let them roast until the skins were nice and crunchy, which usually takes around 45 minutes.
Besides eating the grilled pineapple, I also used this time to make the salsa, which I did by just roughly chopping the fruit and puréeing it in a blender with cilantro and lime juice. I always add cilantro to my al pastor tacos, and acidity was one thing an al pastor marinade has that my rub didn't, so I felt these additions would help round out the end flavor even more.
As expected, 45 minutes later the wings that were on the grill had developed a skin that was textured and crackling along with a beautiful mahogany color thanks to a mix of the spice and smoke. They certainly looked amazing and fueled high hopes that I had finally righted a recipe that has long haunted me.
And man, these tasted amazing too. I took one bite of the chicken by itself and wasn't totally blown away though—it was crisp, juicy, and had a very layered earthy, smoky, and lightly spicy flavor, but it felt like it was missing something. That something was completed in full, and then some, once I dipped the wings into the salsa, which brought contrasting sweetness along with bright acidic and fresh herbal notes that made the al pastor experience whole. I will say that the the flavor wasn't a one-to-one match with traditional al pastor, but enough elements were there that there was no mistaking the originating influence, and I don't think anyone could argue these wings aren't great in their own right. So now I just need to hope anyone searching for an al pastor wing recipe tries this recipe and not my other, because these are fully up to snuff with my standard of quality.
Al Pastor Wings
Yield 4-6 servings
Prep 20 Minutes
Inactive 8 Hours
Cook 45 Minutes
Total 9 Hours 5 Minutes
Ingredients
For the Wings
1 tablespoon baking powder
1 1/2 teaspoon kosher salt
1 1/2 teaspoons guajillo chile powder
1 1/2 teaspoons ancho chile powder
1 teaspoon dark brown sugar
1/2 teaspoon garlic powder
1/2 teaspoon chipotle chili powder
1/2 teaspoon oregano, preferably Mexican
1/2 teaspoon ground cumin
3 pounds chicken wings, cut into drumettes and flats
For the Pineapple Salsa
1/2 large pineapple, peeled, cored, and cut into 1/2-inch slice
1/4 cup packed fresh cilantro, plus more for garnish
1 tablespoon freshly squeezed lime juice from 1 lime, plush additional lime wedges for serving
Kosher salt
---
Procedure
To make the wings: In a small bowl, mix together baking powder, kosher salt, guajillo chile powder, ancho chile powder, brown sugar, garlic powder, chipotle chili powder, oregano, and cumin. Place wings in a large bowl and sprinkle in spice mixture, tossing to evenly coat, until liberally seasoned. Arrange wings in a single layer on wire rack set inside a baking sheet lined with aluminum foil, leaving a little space between each wing. Place baking sheet with wings in refrigerator for 8 hours to overnight.
To make the salsa: Light one chimney full of charcoal. When all the charcoal is lit and covered with gray ash, pour out and arrange the coals on one side of the charcoal grate. Set cooking grate in place, cover grill and allow to preheat for 5 minutes. Clean and oil the grilling grate. Place pineapple slices on hot side of grill and cook until softened and well browned all over, 3-5 minutes per side. Transfer pineapple slices to a cutting board and roughly chop. Transfer pineapple to the jar of a blender and add in cilantro and lime juice. Puree mixture until smooth. Season with salt to taste; transfer salsa to a small bowl.
Place the wings on the cool side of the grill, cover, and cook until skins are crisp and well browned, about 45 minutes. Transfer wings to a serving platter, garnish with cilantro, and serve immediately with salsa and lime wedges.
You Might Also Like
Comments
Joelle I'm SO glad I clicked on your Pinterest link. OMG! Everything looks so good! Keep up the GREAT work!Posted Sat, Feb 3 2018 7:54AM

Elizabeth This rub is so good! Just used it on boneless skinless chicken thighs (left overnight because I lost momentum yesterday) and it was a huge hit with my family. My husband said "I would eat this every day." Definitely don't skip the grilled pineapple -- although none of us remember it being grilled in Mexico. It's strangely impossible to find tacos al pastor *with* the pineapple every place we've tried (and there have been many) once back home in California. I might go back to the Serious Eats recipe and try it now... Thank you!Posted Fri, Apr 29 2022 10:40PM