Planked Meatloaf
New Years resolutions be damned! I ended the year a healthy 10 pounds lighter than I started it, so instead of resolving to eat better and shed extra weight, I'm going to take full comfort in gut busting winter fare. What says that better than meatloaf? Yes, nearly two pounds of sheer meat in a towering loaf with a sweet glaze is just the perfect meal where excess far outweighs nutritional value and, most importantly, tastes awesome.
Tasting awesome isn't a given for meatloaf though—I suffered so many bland and mushy meatloaves in my youth that I avoided them altogether for a large portion of my life. Even though I've found some tried and true recipes at this point, I'm still always experimenting with different additions to flavor the loaf. This time around, I subbed out my usual Saltine crackers—way better than breadcrumbs—for herb stuffing mix on whim when I saw it at the grocery.
In the name of flavor, I also took the extra step of sauteing the veggies prior to adding them into the mix. Onions, red peppers, and garlic were all given time in a hot pan to intensify and soften.
The veggies and stuffing mixture were then added into the meat trifecta that makes up meatloaf—ground beef chunk, veal, and pork. This balance of meats creates the perfect combo of flavor, juiciness, and tenderness in my opinion. The chuck does most of the work in the beefy flavor department, while the veal builds on that flavor in more nuanced way. The pork is good source of extra fat, which keeps the loaf moist during and after cooking.
Once meats and fillings were throughly combined, I used a pan merely to mold the loaf. This can be done freeform, of course, but I like the nice shape given the final product when using a mold. The one think you really don't want to do is to cook a meatloaf in the pan, which is a recipe for mushy meat and a missed opportunity for the addition of a tasty glaze.
While I've been all about the loaf in the winter, this is actually the first one I ever brought to the grill. I have my current interest in planking to thank for that, because a wood plank just happens to be the perfect size for a meatloaf, and the fact that it adds a light woodsy flavor is just an added bonus.
The meatloaf cooked over indirect heat until it just started to brown around the edges, about 15 minutes. I then brushed the entire thing with a simple, no-cook, barbecue sauce glaze. My glaze was the bare minimun of barbecue sauce—ketchup, sugar, vinegar, Worcestershire, and mustard—but feel free to use your favorite sauce here, it can only make it better
The meatloaf continued to cook until it hit 155 degrees in the center, which took around 45 minutes more. It emerged from the grill with the barbecue glaze beautifully baked in with some crisped browned spots where the loaf was exposed to more heat.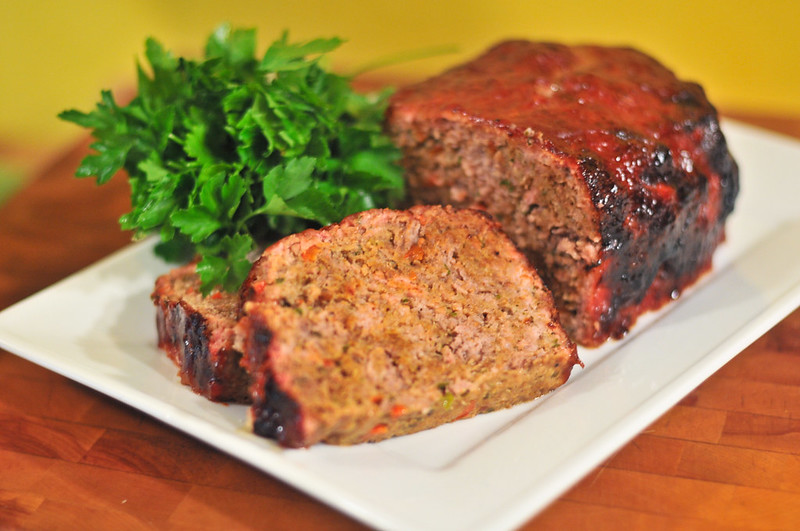 Man, this is the way to start a new year! The solid brick of meat was outstanding. The intense flavor of the glazed loaf overshadowed any woodsy notes from the plank, but some smoking wood that was thrown on the coals did lend a faint smokiness. The standout though was the herb stuffing, which brought a lot to the party and stood well against the beef. The barbecue sauce glaze also did wonders to make this meatloaf way better than average, adding a sweet tanginess I wanted to get in each bite. I was so proud of actually loosing weight this year, but now I'm even prouder of this meatloaf which helping put it back on.
Planked Meatloaf
Yield 6 servings
Prep 30 Minutes
Cook 1 Hour
Total 1 Hour 30 Minutes
Ingredients
For the Glaze
1/2 cup ketchup
3 tablespoons packed dark brown sugar
2 tablespoons cider vinegar
1 tablespoon Worcestershire sauce
1 teaspoon yellow mustard
1 teaspoon hot sauce
4 ounces herb stuffing
1 teaspoon chili powder
1/2 teaspoon freshly ground black pepper
1/2 teaspoon ground cumin
1/8 teaspoon cayenne pepper
1 tablespoon olive oil
1 small onion, finely chopped
1/2 red pepper, finely chopped
3 medium cloves garlic, minced
1 teaspoon fresh thyme
2/3 pound ground beef chuck
2/3 pound ground veal
2/3 pound ground pork
1/2 cup milk
2 eggs, lightly beaten
1/4 cup minced fresh parsley
1 teaspoon salt
1 wood plank, soaked in water for at least 1 hour prior to use
1 small chunk of light smoking wood, such as apple or cherry
---
Procedure
To make the glaze, mix together ketchup, brown sugar, vinegar, Worcestershire sauce, mustard, and hot sauce in a small bowl. Set aside.
Place stuffing, chili powder, black pepper, cumin, and cayenne pepper in the bowl of a food processor and pulse until stuffing is finely chopped. Transfer to a large bowl.
Heat olive oil in a medium skillet over medium-high heat until shimmering. Add in onion and red pepper and cook until onions have softened, about 6 to 8 minutes. Add in garlic and thyme and cook until fragrant, about 30 seconds. Transfer to bowl with stuffing mixture.
Add beef, veal, pork, milk, eggs, parsley, and salt to bowl and mix with hands until thoroughly combined.
Line a loaf pan with wax or parchment paper. Pour out meatloaf mixture into pan and press down, forming a loaf. Turn loaf out wood plank and remove pan and paper.
Light one chimney full of charcoal. When all the charcoal is lit and covered with gray ash, pour out and arrange the coals on one side of the charcoal grate and place wood chunk directly on top of coals. Set cooking grate in place, cover gill and allow to preheat for 5 minutes. Place planked meatloaf on cool side of grill, cover and cook for 15 minutes.
Brush meatloaf all over with glaze, cover, and continue to cook until an instant read thermometer registers 155 degrees when inserted into middle of meatloaf, about 40-60 minutes more. Remove from grill, lest rest for 15 minutes. Slice and serve.
You Might Also Like
Comments
Pete where do you get your planks? the one time I tried to cook something on a plank (admittedly, on my grill, not over coals) after leaving the cover down over the plank for 2 minutes all I had left were some embers. This after I had soaked the plank for a solid 1/2 hour.

It looks like you cook with planks frequently. Any suggestions for selecting better quality ones? Posted Wed, Jan 2 2013 2:07PM

Brian Meagher The plank idea is something I really want to try. Our best meatloaves have involved a similar and simple glaze. Nice post. Thanks for sharing it!Posted Wed, Jan 2 2013 6:59PM

Rob I love the pics and I'll try the recipe, and I think the reason you didn't get much flavor out of the plank is that you didn't get it going first. Try prepping the plank over direct heat for five minutes or so before moving it to indirect heat and cooking on it. You don't need additional wood for smoke if your plank is smoking.Posted Thu, Jan 3 2013 12:35AM

Jason Just out of curiosity, when you covered the bbq and cooked indirect, how did you adjust the vents? What is the ideal cooking temp? Too hot and I can only imagine the glaze would burn to carbon in an hour.

Thanks!Posted Thu, Jan 3 2013 7:54PM

Josh @Pete I really like the aFire planks for their looks and durability. Their oval shape isn't always ideal though, so I've been using these planks when I need more space.

@Jason When the meatloaf first went on the grill, it was still pretty hot, around 425. Once the loaf was ready for glazing, the temp had dropped to the 350-375 range and stayed there the rest of the time with the vents open all the way.Posted Fri, Jan 4 2013 3:05PM

Chris Superb Josh! I've done them on the grill a few times but haven't tried the plank route yet.Posted Sat, Jan 5 2013 9:45AM

Rob Sorry if my previous comment came off the wrong way. I''ve done some research over the last few days and I realize that people don't use planks the way I do do. That's cool. We tried this recipe step-for-step, except I got the Oak Plank smoking before I put the Meatloaf on , so we didn't need any additional smoking wood. Awesome dinner, indeed....
http://3.bp.blogspot.com/-pH65BqC--nI/UP8wIrdZU1I/AAAAAAAAICE/E_nLKrE3Qmk/s1600/353.JPG
Posted Tue, Jan 22 2013 10:19PM

Josh @Rob I've been using planks how you described as well--it all depends on the recipe and what I'm trying to get out of it. Glad you tried out the recipe and liked it!Posted Wed, Jan 23 2013 8:51PM

George You reference herb stuffing. Can i assume it was something like "stove top stuffing"Posted Thu, Jul 21 2016 12:49AM

Josh @ George Yup, exactly.Posted Mon, Jul 25 2016 9:31AM