Turkish Beef Kofte
Turkish grilled meats = kebabs to me. So it would make sense that when going through a bit of Turkish kick at a Meatwave last fall, I relied heavily on skewers for my grilled meat creations that day. Of course, perception isn't reality, and actual orders of fire kissed meats at Turkish restaurants haven't always come in stick form. Just one case in point are these Turkish kofte—spiced beef formed into meatball-like patties, then grilled.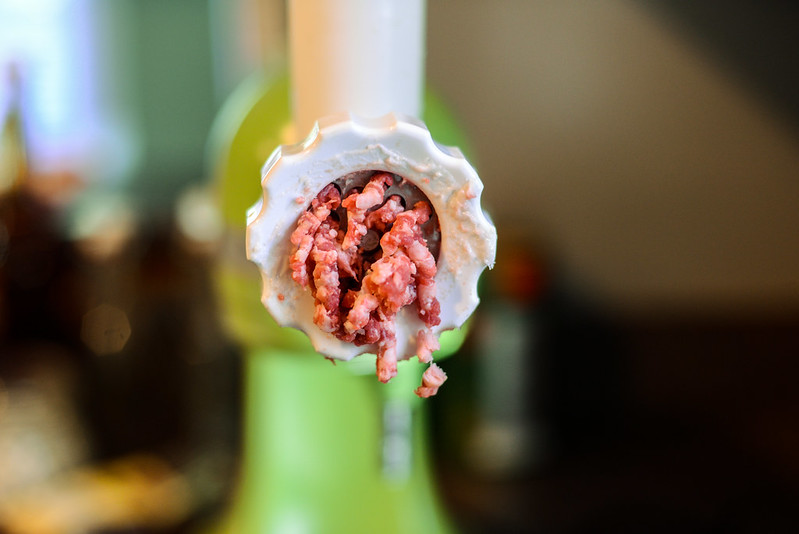 Kofte can be many things—they can come in a variety of different meats with seasoning that can range from minimal salt and pepper to being peppered with all different herbs and spices. Although flavor can be disperate, one unifying factor I've noticed is a relatively coarse grind or chop to the meat where you can see distinctive bits of beautiful white fat speckled throughout the meat mixture.
In an attempt to get this defining textural aspect down, I opted to pick up a piece of beef chuck and grind it myself at home. I usually take two-grind approach, where the meat is first coarsely ground with a medium die, then sent back through using a fine die, which results in meat and fat that are well incorporated. Not wanting that here, I only sent the meat through the grinder once, using my medium die, which left me with a bowl of coarsely ground beef that had large bits of white fat—so far, so good.
Seasoning was a bit of a tough call. I was thinking about going very minimal, since all my other foods I was cooking that day had a lot going on, but decided that while I had my freshly acquired Turkish spices on hand, I might as well use them. This led me to start off the seasoning with sumac, cumin, salt, and ufra pepper flakes, which have slightly sweet and smoky character. To to spices I added some fresh components by way of grated red onion and parsley.
I gave the meat and its seasonings a whirl in the KitchenAid, but was mindful to not overwork the mixture in order to keep that coarse texture. So I let it spin on a low speed until the seasonings were well incorporated, then added in a bit of ice cold water and let meat go a little long until it had a uniform, sticky appearance.
As with any meatball or sausage I make, it was time to taste test. I do this by breaking off a small piece of the meat mixture, frying it up, and then digging in. I always want to make sure everything is properly seasoned at this point, because once I commit to forming or stuffing, it's hard to go back and correct mistakes.
After verifying I indeed had a mighty tasty kofte on my hands, I formed the meat into patties roughly of the shape flattened footballs that were probably just under three ounces each. I left some indentations from my fingers in the meatballs since I've seen kofte served this way before and because those indents can help the patties keep their shape on the grill—I always put a little divot in my hamburgers for this purpose.
Not being skewered was actually a great thing when it came time to cook these babies. Because of their fixed length, skewers can limit the area they can be cooked in on round grills, such as mine. With these smaller patties though, I could make better use of the space, tucking them into corners of cooking area my skewered meats could not fill.
Over a medium-hot fire, the kofte cooked up in around ten minutes, developing a great sear and cooking to medium-well doneness in that time.
Once done, I loaded these glistening patties onto a plate with all the fixings—pita, red onion and sumac salad, cucumber salad, and pepperoncinis. Although I opted to give them a nice seasoning, these kofte were understated when compared to other things I made that day, like the kanat or lamb pides. They had a mellow earthy flavor with a hint of smoky heat from the pepper and a little brightness and freshness by way the sumac and parsley. It was the beefy flavor and juicy meat that really stood out the most though, and that was given a defining Turkish context by the accompaniments on the plate. Despite me spending much more time and effort on all the other recipes from that Meatwave, these kofte were probably my favorite in the end—sometimes simplicity just rules.
Turkish Beef Kofte
Yield 4 servings
Prep 30 Minutes
Cook 10 Minutes
Total 40 Minutes
Ingredients
1lb beef chuck (whole or ground)
1/3 cup grated red onion
2 tablespoons finely chopped fresh parsley
2 teaspoons sumac
2 teaspoons ufra pepper flakes
2 teaspoons kosher salt
1 teaspoon cumin
2 tablespoon ice cold water
---
Procedure
If grinding at home: Cut beef chuck into 1-inch cubes and process through meat grinder fitted with a medium die.
Place ground beef, onion, parsley sumac, pepper flakes, salt, and cumin into the bowl a standing mixer and mix at low speed for 1 minute. Add water and mix until liquid is incorporated and mixture is uniform and sticky, about 1 minute longer.
Form a small patty; place rest of meat mixture in refrigerator. Cook patty in a small frying pan over medium-high heat until cooked through. Taste and adjust seasonings of kofte if necessary.
Break off about 3 ounces of meat and work into a flattened football shape in your hand. Repeat with remaining meat mixture.
Light one chimney full of charcoal. When all the charcoal is lit and covered with gray ash, pour out and spread the coals evenly over entire surface of coal grate. Set cooking grate in place, cover grill and allow to preheat for 5 minutes. Clean and oil the grilling grate. Grill kofte over medium-high direct heat until they are well seared all over and register between 155-160°F on an instant-read thermometer inserted into center of meat. Let rest for 5 minutes. Serve immediately.
You Might Also Like
Comments
David Um, yes please. This sounds amazing, and I've been looking for good Turkish recipes after visiting there last year. The bread in the last picture looks great too - is that homemade or store bought? any tips?Posted Tue, Feb 9 2016 12:20PM

Josh @David Thanks. The pita is store-bought.Posted Tue, Feb 9 2016 12:52PM

Anna Rekcyj looks very good , no too many spices, just enough...simplicity just rules as you saidPosted Mon, Sep 5 2016 4:40PM