Barbecue Ribs with South Carolina Mustard Sauce
Part of my holiday planning is mapping out what I'm going to bring to three different potlucks that happen annually between Christmas in New Years. Being at my in-laws in Texas without a smoker has forced my hand to look towards braised meats and baked pastas in the past, but I've helped remedy that situation by somewhat-selfishly gifting my brother-in-law with a kamado cooker as a housewarming gift, which is now ready for use. While I've loved all the chilis, barbacoas, and lasagnas I've made, I'm finally opened to explore my true calling and great pot luck fare—barbecue. In testing the waters for what might make a suitable dish, I tried out a few racks of pork ribs finished with a golden South Carolina-style mustard sauce.
There wasn't much difference between my normal ribs and these, with the exception of the sauce, and I wanted to make sure that was really great. I feel like there's a fine line between amazing mustard sauces and ones that just taste like no more than French's with more vinegar. To make sure my sauce was fully layered and stood in the category worthy to adorn great barbecue, I took my base South Carolina sauce recipe and tinkered with the measurements and ingredients ever so slightly to bring it from exemplary of the style to something that truly stands out, in my opinion anyway.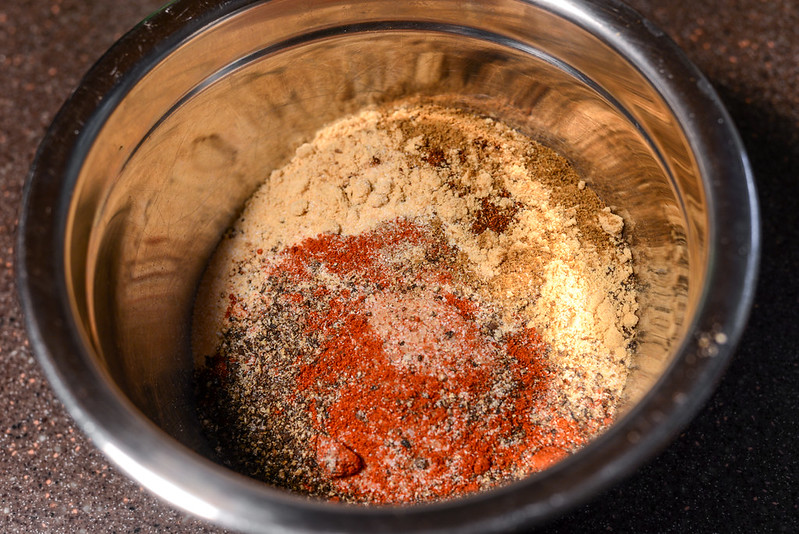 Knowing what the sauce tasted like let me build a rub that would compliment and fill in the holes to round out the entire flavor profile. Because mustard has a bit of a strong bite, I went pretty heavy with the sugars in the rub, using both dark brown and turbinado sugars. The remaining ingredients in the rub were from my standard line-up—paprika, celery salt, granulated garlic, chili powder, mustard powder, onion powder, cumin, and a hefty portions kosher salt and coarsely ground black pepper.
Something I've done in competition to create a thicker layer of rub to ensure maximum flavor in one-bite was to brush on mustard before applying the seasoning. Since I was making mustard ribs, I thought that would be a fitting procedure to follow here, even if that brushing of mustard had little to no discernible flavor impact itself from my observations.
So after coating each rack with mustard, I went in heavy with the rub and covered every surface of the four racks of St. Louis-cut beauties I picked up from the butcher.
I prepped my ribs the night prior and let them sit in the fridge overnight so I can get smoking at the crack of dawn, but you can certainly throw them straight in the smoker after rubbing them down if you want. This was actually the first time I fired up the smoker since moving to North Carolina, and boy did it feel good to get back into the habit.
It felt even better when I had these waiting for me after five hours of smoking. The only thing I did to them while cooking was mist them with apple juice about every hour to help maintain that gorgeous mahogany color.
I've found with my barbecue sauce testing that mustard sauces fair better uncooked—they can sometimes get too bitter or even gritty after being taken to the flames. That left me finishing these ribs a healthy slather of that yellow gold right before I served them rather than in the last 30-minutes of cooking.
Firs things first, these ribs were cooked tremendously well. Maybe it was a sign for me to get back to my true calling, but with minimal work, these ribs were glistening, incredibly moist, and perfectly tender. The rub and sauce combo were almost secondary to that, but they sure worked their magic as well. As I hoped, the rub gave the ribs a nice hit of sweetness along with its complexity, which balanced out the bite of the mustard really well. The sauce itself was a well suited for smoked meats, having the hallmark depth and progression of flavors of barbecue sauce that ranged from sweet to tangy to savory to spicy. They were an excellent rib for the first true barbecue I've served in my new home, and would be an excellent choice for one of my potlucks to show off my barbecue skills—something I've yet to really do with my Texas family.
Barbecue Ribs with South Carolina Mustard Sauce
Yield 4 servings
Prep 30 Minutes
Cook 5 Hours
Total 5 Hours 30 Minutes
Ingredients
For the Sauce
1 cup yellow mustard
1/4 cup cider vinegar
1/4 cup dark brown sugar
1/4 cup honey
2 tablespoons ketchup
1 tablespoon Worcestershire sauce
1 tablespoon hot sauce, preferably Texas Pete
1 tablespoon black pepper
1 teaspoon white pepper
For the Rub
1/3 cup dark brown sugar
1/4 cup turbinado sugar
2 tablespoons paprika
1 tablespoon kosher salt
1 tablespoon celery salt
2 teaspoons granulated garlic
2 teaspoons chili powder
2 teaspoons mustard powder
2 teaspoons freshly ground black pepper
1 teaspoon ground cumin
1 teaspoon onion powder
For the Ribs
2 racks St. Louis-cut spare ribs
1/3 cup yellow mustard
2 cups apple juice in a clean spray bottle
2 fist-sized chunks of medium smoking wood, such as oak or pecan
---
Procedure
For the Sauce: Whisk together mustard, vinegar, brown sugar, honey, ketchup, Worcestershire sauce, hot sauce, black pepper, and white pepper in a medium bowl. Transfer to an airtight and set aside. Can be stored in the refrigerator for up to month.
For the Rub: Mix together brown sugar, turbinado sugar, paprika, kosher salt, celery salt, granulated garlic, chili powder, mustard powder, black pepper, cumin, and onion powder in a small bowl.
For the Ribs: Remove membrane from back of each rack of ribs and trim meat of excess fat. Brush top side of each rack with a layer of yellow mustard, then generously season ribs all over with rub mixture.
Fire up a smoker or grill to 225°F, adding chunks of smoking wood when at temperature. When the wood is ignited and producing smoke, place the ribs in smoker or grill, meaty side up, and smoke until the ribs have turned a deep mahogany color, 2-3 hours. Spray ribs with apple juice and continue smoking, spraying the ribs with apple juice every 45-60 minutes, until they bend slightly when lifted from one end, about 2-3 hours longer.
Remove ribs from smoker and brush with mustard sauce. Slice and serve ribs immediately.
You Might Also Like
Comments
Chris Smart idea about balancing out the sauce with the rub and increasing the sweetness. Great present for your bro in law, too!Posted Thu, Dec 24 2015 10:35AM

Henry This looks really yummy , gotta try it out soonPosted Sat, Dec 26 2015 7:24AM

David Somerville Josh, I agree with Chris...awesome present for the brother in law!

Glad to see you firing up the WSM. It has to help make the Carolinas feel a little like home.Posted Tue, Dec 29 2015 10:01AM

Joseph This looks so good, I'm gonna try cooking it tonight!Posted Sat, Jan 9 2016 4:26PM

Thomas This was a great memory of mine that my dad used to make. Thanks for sharing! Posted Wed, Mar 2 2016 9:51PM

Paul Murphy Thanks for posting this Josh. My uncle Chester used to make ribs like this when I was younger. Going to use this recipe at the next family get together and have a little cook-off!Posted Fri, Mar 18 2016 1:10PM

Nicholas Mancuso Well, I guess I know what's for dinner tonight =). Thanks for sharing this Josh.Posted Sat, Aug 20 2016 10:05AM

Scott The ribs were to die for and the mustard was a great idea because it really enhanced the flavor.Posted Sat, Dec 17 2016 3:33PM

Kyle Mine are on the grill as we speak!! I've got to say the sauce is different than I'm used too, but the flavor is impeccable. Then the rub very very good as well!!! I can't wait till these ribs come off!!! Right now I've got 3 more hours!!Posted Tue, Feb 14 2017 2:39PM

Michael Anything smoked that also involves mustard is as good as it gets. Sure to keep everyone drooling while it's on the grill!Posted Fri, Jun 2 2017 6:59PM

Robert I can't wait to taste the greasy ribs for our dinner. Thanks for sharing this.Posted Thu, Jul 27 2017 11:02PM

Rebecca One of my new favorites! So easy and yum, yum, yum!Posted Fri, Jul 28 2017 10:26PM

Robb Great sauce and rub. I use this sauce on my Pork butts to hold the seasoning on and also as a sauce when I make shredded pork sliders/sandwiches. Posted Sun, Jan 6 2019 2:11PM