Grilled Falafel Pitas
It took me a long time to get into falafel. Even when I was living in Israel and traveling around the Middle East, I rarely ate these chickpea fritters, always opting for what I saw as a far superior option—shawarma. It's only been the last ten or so years that I've partaken in moderate falafel consumption, and while I'm more favorable to it on the whole now, whenever I see the bright green, herb-loaded versions, I'm all in. This type of falafel is true magic, packing immense flavor on top of that already irresistible exterior crunch. So when I was putting together a meatball-themed Meatwave earlier this year and was considering what a proper vegetarian option may be, this style of falafel quickly popped into my mind and I went with it.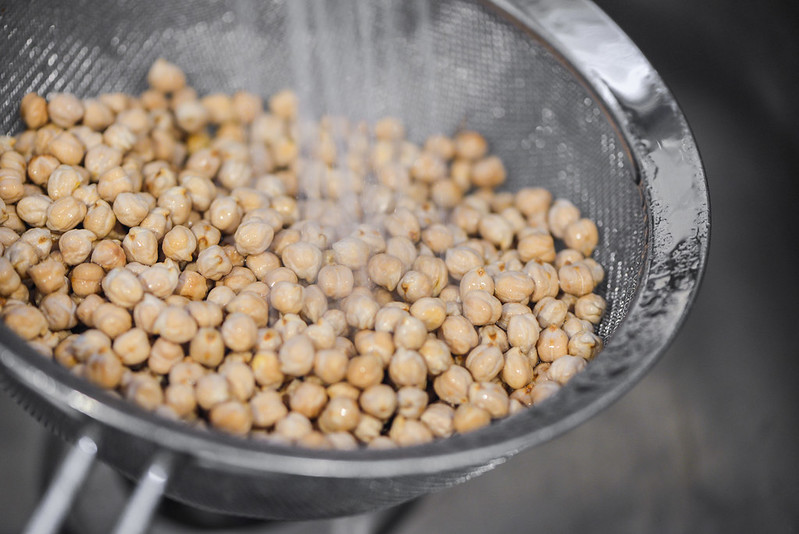 My turn off from falafel in the past may have partly been a dislike for chickpeas, which I later learned is more a distaste for canned chickpeas that I feel have a slightly off flavor. So usually when working with chickpeas at home, I opt to start with dried, which doesn't add much effort except washing, but some preplanning is needed to account for the overnight soak required.
That's not wasted time though in this recipe—this period of waiting provided ample space to create a couple of the toppings used in the final pita sandwiches. I'm partial to Israeli salad as a topper, which is a mixture of diced tomatoes, cucumber, red onion, and bell pepper dressed with fresh parsley, olive oil, lemon juice, za'atar, salt, and pepper. All of this combines to create a salad/condiment that is incredibly fresh and full flavored, which is a great foil for either heavy shawarma meat or the (usually) fried falafel it's paired with.
I also made a tahini sauce, which was an even quicker and simpler recipe that brought together tahini paste, lemon juice, water, garlic, and salt. If you're not into tahini all that much, hummus is another great option here, and probably what I would have used if I hadn't already had all the ingredients to make this sauce on hand.
Once the overnight soak was completed, the chickpeas had at least doubled in size. To get them ready to be transformed into falafel, I drained them, rinsed, and then took them for a spin in the salad spinner to dry them out. Then into the food processor they went.
Following the chickpeas was plethora of seasonings, starting with a heavy dose of herbs by way of parsley, cilantro, scallions, and mint. Rounding out the already abundant flavorings were onion, cumin, coriander, salt, and pepper.
Some quick pulses, stopping to scrap down the sides of the bowl as needed, transformed these ingredients into a homogenous bright green falafel mixture. I scooped out a little bit and tested to make sure it at least held together loosely before transferring the entire thing to a bowl and placing in the fridge for 15 minutes, which helped it firm up a bit.
It's kind of counterintuitive that one of the things I really love about falafel is the crunchy exterior created by frying, then deciding to grill these, which I knew would never achieve that ideal texture. I didn't even know if grilling falafel would work at all, but decided on a method I hoped would lead to success, which started with scooping out batches of the mixture and rolling them into spheres.
I then placed these fragile formations near, but not directly over, a two-zone fire. My goal here was to be able to cook them enough so they would firm up and be easily manageable, and I thought placing them too far from the fire would take too long for that to happen, and putting them right over the fire would probably lead to burning before they were ready to be moved.
I covered the grill during this initial cooking stage, and after about seven minutes, the falafel had indeed become stable enough to moved around. Now that the falafel were structurally sound, I felt comfortable finishing them over direct heat, where I was able to get a nice crusty sear, which made them look very appetizing, even if it that wasn't really a match to the standard crackling appearance frying creates.
When the falafel were finished, I transferred them to a plate and used the now empty grill to toast my pitas. I had some pretty large pitas that I was able to halve and use each piece for separate sandwiches, but if you have smaller pitas, you'll probably be looking at one piece per sandwich.
The final step now was just nestling the hot falafel into the warm pitas and topping with the Israeli salad and tahini. I underestimated how good grilled falafel would be. For whatever it lacked from not frying, it gained in the excellent flavor, which was packed with a strong herbal character backed with a bit of bite thanks to the onion and garlic and a mellow earthy undertone by way of the cumin and coriander. In sandwich form with all the accompaniments, it was easy for me to forget that the falafel wasn't fried, and based on how quickly my guests downed them, I feel like it wasn't such a stretch for them either.
Grilled Falafel Pitas
Yield 4-6 servings
Prep 30 Minutes
Inactive 8 Hours
Cook 10 Minutes
Total 8 Hours 40 Minutes
Ingredients
For the Salad
2 medium roma tomatoes, seeded and diced (about 3/4 cup)
1 English cucumber, diced (about 2 cups)
1 medium red pepper, diced (about 1/2 cup)
1/2 medium red onion, diced (about 1/2 cup)
3 tablespoons finely minced fresh flat-leaf parsley
3 tablespoons olive oil
2 tablespoons freshly squeezed juice from 1 lemon
1 teaspoon za'atar
Kosher salt, to taste
Freshly ground black pepper, to taste
For the Tahini Sauce
1/2 cup tahini
1/4 cup juice from 2 lemons
1/2 cup water
2 teaspoons minced garlic (about 2 medium cloves)
Kosher salt
For the Falafel
1/2 pound dried chickpeas
1/2 cup finely chopped onion
2 teaspoons minced garlic (about 2 medium cloves)
1/3 cup finely chopped fresh parsley
1/3 cup finely chopped fresh cilantro
1/3 cup finely chopped fresh scallions
1 tablespoon finely chopped fresh mint
1 teaspoon ground cumin
1/2 teaspoon ground coriander seed
1 teaspoons kosher salt
1 teaspoon freshly ground black pepper
4-6 Large Pocket Pitas
---
Procedure
To make the salad: In a large bowl, mix together tomatoes, cucumber, red pepper, onion, and parsley. Add oil, lemon juice, and za'atar and toss to combine. Season with salt and pepper to taste. Transfer to airtight container and store in refrigerator until ready to use.
To make the tahini sauce: In a medium bowl, whisk together tahini, lemon juice, water, and garlic. Transfer to airtight container and store in refrigerator until ready to use.
Place chickpeas in a colander or fine mesh strainer and rinse under running water. Transfer chickpeas to a large bowl and add cold to cover them by at least 2 inches. Cover bowl and let sit at room temperature overnight. Drain and rinse chickpeas. Transfer chickpeas to a salad spinner and spin dry.
Combine chickpeas, onion, garlic, parsley, cilantro, scallions, mint, cumin, coriander, salt, and pepper in the workbowl of a food processor fitted with a steel blade. Pulse until chickpeas and herbs are very finely minced, stopping to scrape down sides of workbowl as necessary. Transfer falafel mixture to a medium bowl, cover, and place in refrigerator for 15 minutes.
Light one chimney full of charcoal. When all the charcoal is lit and covered with gray ash, pour out and arrange the coals on one side of the charcoal grate. Set cooking grate in place, cover grill and allow to preheat for 5 minutes. Clean and oil the grilling grate. Using a tablespoon measure or small scoop, scoop out heaping spoonfuls of falafel mixture and gently roll into spheres in your hands. Place falafel on grill near, but not directly over, the fire. Cover grill and let cook until falafel is firm and lightly browned on first side, about 7 minutes. Move falafel to hot side of grill and cook, turning often, until browned all over, about 2 minutes more. Transfer falafel to a plate.
Cut pitas in half, place on hot side of grill, and toast until warm and pliable, about 30 seconds per side. Open pitas to create a pocket and add in 3 pieces of falafel into each. Top with Israeli salad and tahini. Serve immediately.
Falafel recipe adapted from J. Kenji Lopez-Alt
You Might Also Like
Comments
Stephanie Raffaele Thank you for your sharing.The article is very detailed.I will try it by your steps.I think you can do it by grill,it is also very nice.

I've written some articles about barbecue grills, and I welcome reading and giving advicePosted Mon, Sep 11 2017 3:52AM

Nicole I love the addition of cilantro to the falafel. I will have to try it.Posted Sat, Sep 30 2017 2:36AM