Grilled Skirt Steak Fajitas with Mexican Rice
After a disappointing attempt at some meaty treats for Cinco de Mayo earlier this week, I was left with little choice but to get out and grill again in order to appease the Mexican gods (and by gods, I'm mostly talking about my stomach). I'm no fool though, so after coming to the conclusion that New Yorkers and authentic Mexican food is not what the holiday is about, it was time to take the Tex-Mex approach with some tasty fajitas.
Thanks to the brilliant Alton Brown, fajitas are something that I know that I can cook, and always come out better than any I've had at a restaurant, and this includes the few I've had in Houston (although I have yet to go to Ninfa's). So I am almost guaranteed success, which is what I needed after Thursday's debacle.
Fajitas have to be the ultimate food for Americans celebrating Cinco de Mayo. They're associated so often with Mexican cooking, while being an almost completely American dish. We really have no reason to be celebrating a regional holiday commemorating a Mexican victory over the French, it's just another excuse to grill and drink, and I'll take it. That leaves me, in NYC, celebrating a holiday where I pretend to know about Mexico, making it only fitting to choose a food that I falsely think of as Mexican.
The start to any good fajita is skirt steak, and only skirt steak. Coming in a close second to hanger steaks, skirt steak is one of my favorite cuts, but not always the easiest to find. Due to my off hours shopping habits, I've gotten into a routine of getting my meat pre-packaged at the closest 24-hour grocery, something I decided to change starting this weekend. I went to the two best looking local butchers in search of my meat, but the first didn't have any skirt steaks, and the second only sold huge 4 lb vacuumed packed bags of them. This was a little disheartening for what I was hoping to be the beginning of a very active relationship between me and a local butcher. I ended up getting my steak at the grocery again, although it was a very good looking piece of meat.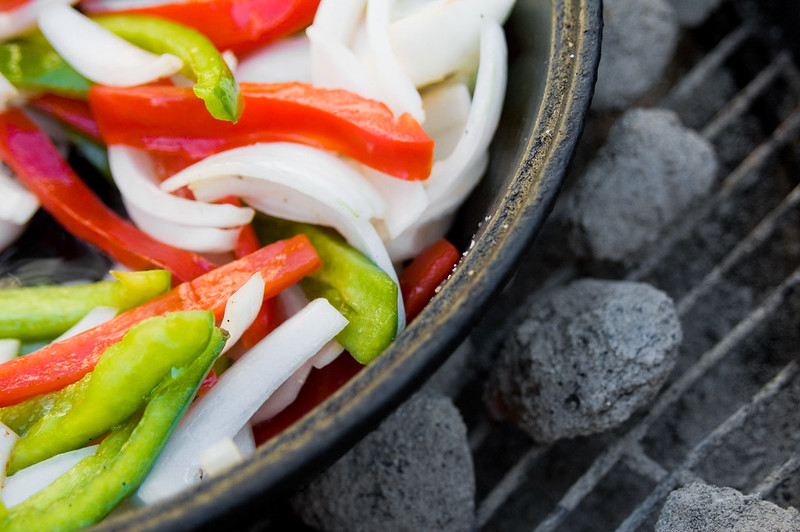 After a very quick marinade, the steak is ready to grill. I love how quick the skirt steaks grill up. If you stick them on when the grill is at its hottest, they usually take 3 mins or less per side, making it a great dinner to make on a weeknight, as I often do. Since they grill up so fast, there's no need to waste the extra heat left in the grill, so I take my cast iron skillet, put it directly on the hot coals, and saute the veggies until they're nice and caramelized.
A delicious skirt steak can be overly chewy just by cutting the wrong way. I've found it's best to cut the steak against the grain, and even if the steak is a little overdone, it's still easy to eat. For fajitas I cut them into small strips, but if you're into fancy pants presentation, you can slice it on a bias.
So now on Cinco de Mayo, I have a meal that feels more like the holiday in my mind. I don't think you need to fancy up fajitas with all sorts of condiments, just a little dollop of sour cream is that's needed along with the steak and veggies.
I do, however, always cook up a big pot of Mexican rice with my fajitas. The recipe from America's Test Kitchen has always served me well, I just recommend getting canned fire roasted tomatoes or roasting your own, which gives a really rich, deep flavor to the rice. This rice is great reheated too, so I make a lot and keep eating it all week, because, like we do with most American holidays, it's best to keep this one going as long as possible.
Viva el Meato!
Grilled Skirt Steak Fajitas with Mexican Rice
Yield 6 to 8 servings
Prep 30 Minutes
Inactive 1 Hour
Cook 50 Minutes
Total 2 Hours 20 Minutes
Ingredients
For the Mexican Rice
12 ounces canned fire roasted crushed tomatoes
1 onion, quartered, peeled, and trimmed
1/3 cup vegetable oil
2 cups long-grain white rice
4 cloves of minced garlic
3 jalapeños, stemmed, seeded, and minced
2 cups low-sodium chicken broth
1 tablespoon tomato paste
Kosher salt
1/2 cup minced fresh cilantro
Freshly ground black pepper
Lime wedges
For the Fajitas
1/2 cup olive oil, plus more for vegetables
1/3 cup soy sauce
4 scallions, washed and cut in 1/2
2 large cloves garlic
1/4 cup lime juice
1/2 teaspoon red pepper flakes
1/2 teaspoon ground cumin
3 tablespoons dark brown sugar or Mexican brown sugar
2 pounds inside skirt steak, cut into 3 equal pieces
2 red bell peppers, cut into strips
2 green bell peppers, cut into strips
1 large white onion, cut into strips
Kosher salt
Sour cream
Fajita-sized flour tortillas
---
Procedure
To make the rice: Preheat oven to 350 degrees. Rinse rice in a fine mesh strainer for 1 minute and then set aside to strain. Puree crushed tomatoes and onion in a blender. You should have 2 cups of puree, spoon off any extra if necessary.
Heat oil in a large dutch oven. Add rice and sauté until until light golden brown, about 10 mins. Stir in the garlic and 2/3 of the minced jalapeños and cook until fragrant, about 15 seconds. Stir in tomato puree, chicken broth, tomato paste, and salt. Bring to a boil, then cover and move into the oven. Cook the rice for 30 mins, stirring once 1/2 way through. Remove rice from oven, fluff the rice with a fork. Fold in the cilantro and remaining jalapeños. Season with salt and pepper to taste and serve with lime wedges.
To make the fajitas: Place 1/2 cup olive oil, soy sauce, scallions, garlic, lime juice, red pepper flakes, cumin, and brown sugar in a blender and puree. Put pieces of skirt steak in a large ziplock bag and pour marinade all over. Seal the bag, removing as much air as possible and allow the steak to marinate for 1 hour in the refrigerator.
Heat 1 chimney full of charcoal. When all the charcoal is lit and covered with gray ash, pour out and start grilling the steak immediately, while the fire is at its hottest. Grill on each side 3-5 minutes. Remove the steak from the grill and wrap in tin foil and allow to rest 10-15 mins.
While the steak is resting, toss the peppers and onion with some olive oil and a pinch of salt. Place a cast iron skillet directly on the hot coals in the grill, and when heated, add in the peppers and onions. Continue to cook until they are soft and nicely browned.
Heat the tortillas on the grill or in the oven until soft. Assemble fajitas with the vegetables, steak, and a bit of sour cream.
Rice recipe adapted from The America's Test Kitchen Family Cookbook. Fajitas recipe adapted from Alton Brown.
You Might Also Like
Comments