Smoked Bologna
I'm fresh of a weekend spent away at a barbecue competition, and man does all that work and travel take a hell of a lot out of you. It obviously won't rob me of the desire to grill and smoke—it only makes that stronger—but it does leave me feeling like I need to kick back and take things easy for a week or two. So if I want to combine smoking as well as east, it doesn't come much more simple than smoked bologna.
There's not too much to smoked bologna, but there's some good things to know to make it really damn good. First is that you're working with cooked meat, so while the smoker will gently heat up the sausage and make it extra juicy as its fat softens, it won't really absorb any smoke. The only slight exception to that is the outside, so in order to increase surface area that may pick up a faint smokiness, I scored the bologna both lengthwise and around its circumference.
The next thing is flavor addition, and when we're talking barbecue, that will most definitely come in the form of a dry rub. The only problem here is that the bologna's slick outer shell won't allow a rub to adhere well, so to get things sticking, I first brushed mustard all over, then applied the rub. This ended with a bit of an uneven mess, but that's of little concern since it will all taste the same in the end.
This whole preparation took all of about 2 minutes, and while the next step is decidedly longer, it's no less simple. With the bologna slathered and rubbed, all that's left is throwing it in a smoker and let it cook for a couple hours. I made this one while I had some ribs going and just tucked into whatever space was available.
As the bologna heats up, those scores made at the beginning open and fan out. The outside of the sausage and those crevices darken with some smoke, leaving it looking arguably attractive, but pretty cool (in my opinion at least).
At this point the bologna warm and juicy, fit for slicing and serving. Why stop there though when you can up the bologna game. For an even better end results, it helps to grill those slices to give them a little crispness and extra flavor.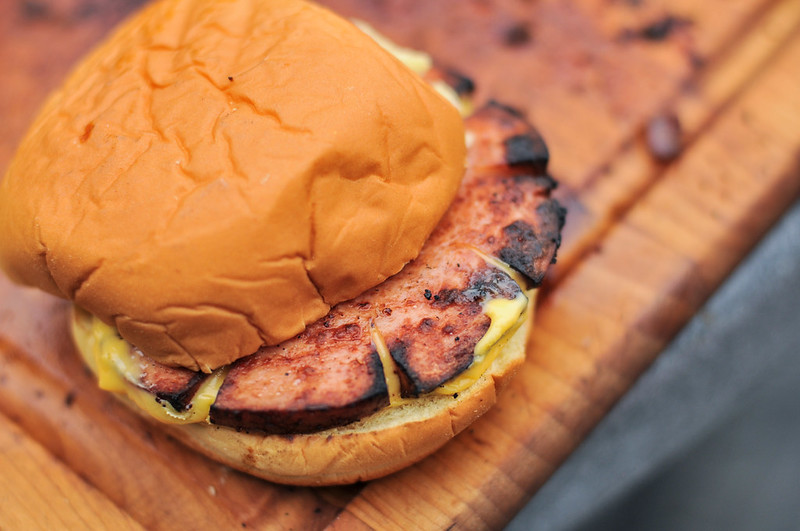 Then to step it up even more, melt on a slice of America cheese, slather a bun with mustard barbecue sauce, and throw it on a potato roll. Now this is good eats. The creamy American gets a tang from the mustard sauce, and the moist bologna delivers a smooth and smoky flavor. It may not be high class barbecue, but it's easy and tastes delicious, making for a great smoked treat when my energy level doesn't allow me to do much else.
Smoked Bologna
Yield 10-12 servings
Prep 10 Minutes
Cook 2 Hours
Total 2 Hours 10 Minutes
Ingredients
1 piece of bologna, 3 to 5 pounds
1/4 cup yellow mustard
2 tablespoons of your favorite barbecue rub
1 to 2 small chunks of smoking wood
10-12 potato rolls (optional, for sandwiches)
10-12 slices American cheese (optional, for sandwiches)
Mustard barbecue sauce (optional, for sandwiches)
---
Procedure
Score entire bologna with a paring knife 1/2 an inch deep about every inch horizontally and vertically.
Brush bologna all over with mustard, and sprinkle with barbecue rub.
Fire up smoker or grill to 225 degrees, adding chunks of smoking wood chunks when at temperature. When the wood is ignited and producing smoke, place bologna in the smoker or grill, and smoke until outside has darkened, 2 to 3 hours. Remove from smoker, let cool for 5 to 10 minutes, then slice and serve.
To make crispy smoked bologna sandwiches: Light one chimney full of charcoal. When all charcoal is lit and covered with gray ash, pour out and spread the coals evenly over entire surface of coal grate. Set cooking grate in place, cover grill and allow to preheat for 5 minutes. Clean and oil the grilling grate. Place bologna slices on grill and cook until browned and crisp on both sides, 2 to 3 minutes per side. Transfer to a roll and top with mustard barbecue sauce.
You Might Also Like
Comments
Chris This is Trevor's go to thing to smoke, he's been doing it since he was 7 or 8. He makes extra because everyone at his school lunch table loved it, so he actually took 8 sandwiches in one day last year. It is surprising how good it comes out, doesn't really taste like bologna.Posted Tue, Aug 6 2013 6:01PM

BBQ Binge Good Bologna is a "treat" cooked on the coals!

I have cooked in KCBS competitions and can relate to the intensity!

"Chris" comment: "It is Surprising how good it comes out, doesn't really taste like bologna"...."Then why make it"?

Thanks Chris for your kids update. By the way, how is the "Bug-A-Salt" Toy working out. HAHAHA!

Posted Wed, Aug 7 2013 7:51PM

Tom really really good one.

Love your recipes but this is great one.thank you very much.Posted Fri, Dec 16 2016 6:14AM

Marty I will have some time off next week an I have got to try this recipe. ThanksPosted Sat, Jan 28 2017 11:16PM