Philadelphia Roast Pork Sandwiches
After fifteen years of doing the Meatwave, it's kind of invigorating to make something that truly amazes me. This happened over this past season with these Philadelphia Roast Pork Sandwiches. While I will personally always be partial to a cheesesteak, I know this "second" sandwich of Philly is the superior specimen with its amazingly flavorful pork that's enhanced by bitter broccoli rabe and sharp provolone. It's one truly powerful and memorable sandwich, and when I set out to make it at Mid-Atlantic themed cookout, I figured it would probably be on par with my pulled pork, but this pork shoulder blew my standard barbecue away and is what I consider to be my crowning achievement of what ended up being a season filled with many meaty hits.
One reason I went into this recipe without the highest expectations is that I didn't think the seasoning for this pork shoulder would be as well matched to the meat as a barbecue rub. It certainly didn't lack for flavor, that's for sure, with a mixture of rosemary, garlic, thyme, oregano, fennel, red pepper flakes, salt, and pepper. It just didn't pack the same punch as my standard barbecue rub, which feels like the holy grail to me for flavoring an entire pork butt.
Unlike with pulled pork, where I go for bone-in butts, I used boneless here. The main reason being is that this pork was destined for the meat slicer to get the right thin and even cuts in the end, so I didn't want any bone getting in the way down the road. Deboning the pork actually created more crevices to sneak seasoning in to, which was a good thing. It also required me to tie the roast close so it would hold its shape during cooking.
Your average Philly roast pork will be done in the oven, but since I'm Mr. Barbecue, I cooked mine in the smoker. The traditional roast pork will also be braised, but I wanted to get some color on the exterior first, so I cooked it for three hours at the beginning as-is. I did this at night, so I unfortunately have no photos of the pork in this state.
Then after three hours, which was at midnight for me, I nestled the pork into a pan that I had prepped with a few cups of chicken stock and a bunch of smashed garlic cloves. I then covered the pan with foil and continued cooking the pork until the center registered 186°F on an instant read thermometer. This is about 10-15 degrees shy of what I normally cook pulled pork to on purpose, because I was planning slicing, not pulling, and I wanted those slices to stay together and not totally fall apart in the end sandwiches.
It took another eight hours for my pork to reach my target temp, at which time is 8:00am, so it was light outside and you get to see what the roast looked like. The amount of liquid in the pan increased significantly as juices and fat rendered from the pork. That liquid also turned from a pale yellow to a dark brown. The pork itself maintained the color gained from the initial three hours of uncovered cooking and looked really beautiful.
At this point, this roast pork alerted me to the fact that I needed a new fridge. Before slicing, I needed to cool the pork completely, so I let is sit for awhile to reach room temperature, then wrapped it in plastic wrap and stuck it in the fridge. With the fridge loaded to the brim with other items for the Meatwave, putting this pork in pushed it to its limit and it no longer cooled as expected for a long time. After the exact same thing happened on the day before Thanksgiving, I wasn't waiting around for a third time for my fridge to fail me, and broke down and got a new one. The pork did eventually cool completely though, and once it did, I sliced it up on my newish meat slicer that saw a lot of action in this season's Meatwave.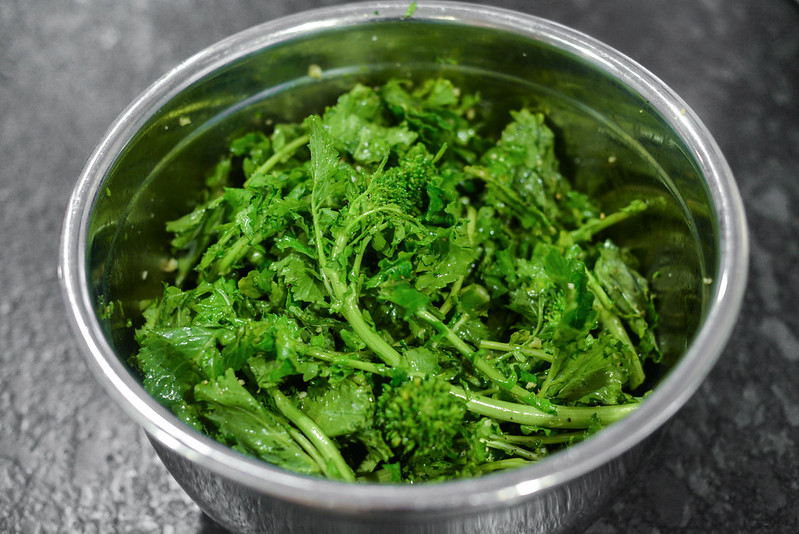 The roast pork sandwiches I've had in Philly either use broccoli rabe or spinach. I think broccoli rabe is the more traditional of the two, but you have to be down for some bitterness. It's an intense flavor that pairs great with the pork and sharp provolone, but it's certainly not for everyone. I like it, but to be totally honest, I like the spinach version a little more because it allows the pork to really shine. For this instance though, I wanted the full flavor experience and went with broccoli rabe, seasoning it first with oil, garlic, red pepper flakes, salt, and pepper.
I then used my grill to cook it, which is totally not traditional, but incredibly delicious. Grilled greens in general are amazing with the crispy, charred bits they pick up, giving them a more robust taste overall. I worried a little about the broccoli rabe falling through the grates, but kind of just dumped the entire bowl of the stuff into one big pile on the grill, and that mass kept it on the right side of grates and it still cooked up superbly.
Once the broccoli rabe was done, I roughly chopped it and then used the continuing heat of the grill to rewarm the pork. I put the slices of meat and the reserved braising liquid in a pan together and let them sit until completely warmed through. This was when I had my first taste of the final pork product and it was so insanely delicious, I couldn't believe I actually cooked it—not that I dislike my cooking, but it totally tasted next level.
I couldn't wait to have the entire sandwich, which I assembled by lining hero rolls with sharp provolone, pork, and broccoli rabe and then toasting on the grill until the bread was a little crusty and the cheese had begun to melt.
Unfortunately, I didn't procure the best quality bread, and that took the final sandwiches down a notch, but that pork was so incredible, I still couldn't wait to eat each subsequent bite. If you take my subpar rolls out the equation, this tasted like one fine example of a Philadelphia roast pork, except with a little something different thanks to the smoker and grill that I considered an added bonus. Luckily this recipe made so much that I had plenty of leftovers and got to have the sandwiches yet again, this time with much better bread, but still not the totally right style rolls. If you haven't had a Philly roast pork yet, you're missing out and should definitely take this recipe for a whirl. You may even shock yourself, as I did, in the fact that you can make pork so amazingly delicious.
Philadelphia Roast Pork Sandwiches
Yield 10 servings
Prep 30 Minutes
Inactive 3 Hours
Cook 9 Hours 10 Minutes
Total 12 Hours 40 Minutes
Ingredients
For the Pork
2 tablespoons finely chopped fresh rosemary
4 teaspoons finely minced garlic
1 tablespoon dried thyme
1 tablespoon dried oregano
2 teaspoon ground fennel seeds
1 1/2 teaspoon red pepper flakes
1 1/2 tablespoons salt
2 teaspoons fresh cracked black pepper
2 tablespoons olive oil
1 boneless pork shoulder (about 6lbs)
3 cups chicken broth
8 cloves garlic, peeled
For the Broccoli Rabe
1 1/2 lbs broccoli rabe, rinsed and dried
3 tablespoons extra-virgin olive oil
1 tablespoon finely minced garlic
1 1/2 teaspoons kosher salt
1/2 teaspoon red pepper flakes
For the Sandwiches
10 Italian sub rolls, split lengthwise
1 lb sliced sharp provolone cheese
---
Procedure
To make the pork: In a small bowl, mix together garlic rosemary, thyme, oregano, fennel, red pepper flakes, salt, black pepper, and olive oil. Spread seasoning mixture all over pork. Using butcher twine, tie pork shoulder closed at about 1-inch intervals.
Fire up smoker or grill to 250°F. Place pork in smoker or grill, cover, and cook for 3 hours.
Place chicken broth and garlic cloves in a high sided pan or pot. Transfer pork to pan or pot and cover with aluminum foil. Place in a smoker and continue to cook until an read thermometer registers 186°F when inserted into center of meat, 6 to 8 hours more. Remove pan or pot from smoker, transfer pork to a cutting board, and let rest until completely cooled, about 1 hour. Transfer braising liquid to an airtight container, wrap pork in plastic wrap, and transfer both to the refrigerator for at least 2 hours and up to 2 days.
Remove pork from refrigerator, unwrap, and remove twine. Cut pork into two pieces and, preferably using a meat slicer, cut the entire roast into thin slices.
To make the broccoli rabe: Light one chimney full of charcoal. When all the charcoal is lit and covered with gray ash, pour out and arrange the coals on one side of the charcoal grate. Set cooking grate in place, cover grill and allow to preheat for 5 minutes. Clean and oil the grilling grate. Place the broccoli rabe in a large bowl and add in olive oil, garlic, salt, and red pepper flakes. Toss to thoroughly coat broccoli rabe in oil and distribute seasonings. Transfer broccoli rabe to hot side of grill and cook until wilted, bright green, and lightly charred, about 5 minutes. Transfer broccoli rabe to a cutting board and roughly chop.
Transfer pork and braising liquid to a high sided pan or pot and place on hot side of grill. Cook until completely heated through.
To make the sandwiches: Line each roll with slices of provolone followed by broccoli rabe and slices of roast pork. Working in batches as necessary, place sandwiches on cool side of grill, cover, and cook until bread is toasted and cheese is melted, about 2 minutes. Serve immediately.
You Might Also Like
Comments
Chef Dave Insanely good,must try,Great jobPosted Thu, Aug 1 2019 11:41PM

Marie I've never had pork shoulder that looks like that - barely any fat or gristle…What's the secret?? Looks great!Posted Sun, Jun 27 2021 9:32AM

mare wheres the long hot peppers? a Philadelphia Italian style pork sandwich has gotta have long hots on it. Posted Fri, Jun 9 2023 6:06PM