Family Meating
So back in the winter, when I set up my little fundraising effort to get The Meatwave on competition circuit, I included a top perk of a barbecue feast to feed up to 30. I sought out to be ambitious, but in reality never thought anyone would actually be so generous to contribute at that lofty level, but it turns out, that's what moms are for. Yup, just as in everything I've done throughout life, my Mother was there to support me, and in return she got to do whatever she wanted with all that barbecue, which became this very special "Family Meating."
Using my new found skills and equipment I've acquired in competition, I cooked the entire meal hours before it needed to be served, held it the Cambro, and transported it over to my Aunt's, where the meal started with the pulling of the first pork butt. Nothing fancy here, just stuck with the trusty Big Bob Gibsons recipe, which ends with succulent and smoky pork every time.
The original perk called for delivery of three pork butts, but since this was family, I swapped one butt for a brisket and used it as competition practice—my brisket needed major improvement after a very disappointing result at the NYC BBQ Cookoff. Starting off with a higher quality product, generously donated by my friends at Snake River Farms, I switched from following other peoples' recipes to developing my own. It pays to trust yourself, as this was head and heels over my previous attempt. The brisket held while slicing, with the flat being tender and flavorful, while the deckle a sea of fatty deliciousness as usual.
Pushing the Meatwave even further beyond competition, I'm currently considering bottling the sauces I've been working very hard to develop—I've learned how to jar and even printed up some nifty labels to make them look at least semi-pro. I'm guessing they're just about ready to go large scale, especially after watching multiple parties vying for the leftovers of the Cherry Chipotle at the end of the day.
What's a barbecue without sides? I cooked up a few to accompany that fast amount of meat, starting with the deceptively simple Tangy Pit Beans. Five types of beans with layers upon layers of flavor make them taste like they took so much more effort than the only 15 minutes of prep and 45 minutes of cooking.
With pulled pork, there must be slaw. I'm wanting to try out some new coleslaw recipes—had a great apple slaw last week at Brisketlab—but stuck with what I knew this time around. This bright and light vinegar slaw was the perfect complement to cut through the fat of the pork and add a nice crunch.
Finally, I made my all-time favorite cornbread recipe. This is a sweet and cake-like Northern-style cornbread, which I'm not afraid to admit that I love so much more than its drier Southern counterpart. Served with a chipotle-honey butter, this side was the one I got the most comments on throughout the day.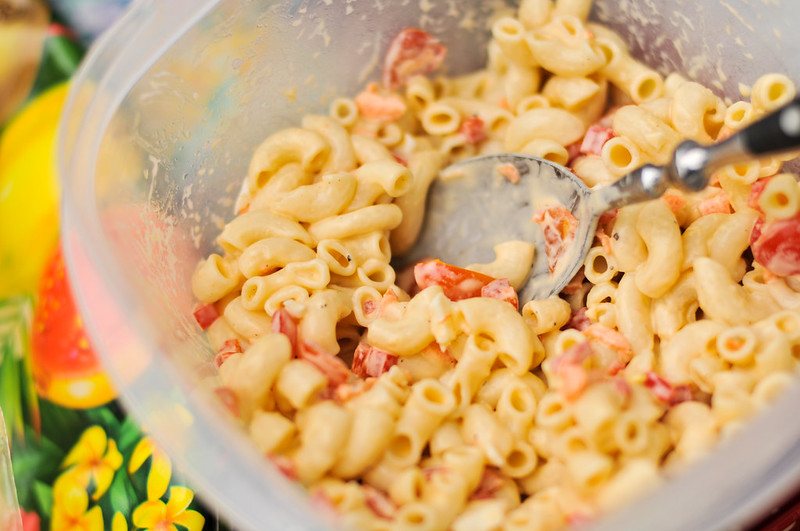 Although I technically was providing way more food than the number of attendees could ever finish, in true Meatwave style, everyone also chipped in bringing even more to expand our waistlines. My Poppy made a macaroni salad, which had a nice cooling effect to counteract the horribly muggy day.
My sister and Chuck made this bacon and cheese dip, which was a bowl of salty, fatty goodness.
They also picked up me and wife's favorite cake, salted caramel from Baked—which was also one of our wedding cakes. A thoughtful gesture for our upcoming anniversary, especially since after our first anniversary, I've been too lazy to go back to Red Hook to get the cake myself.
It's not a Meatwave without booze, and there sure was plenty with beer, sangria, palomas, and more. Unfortunately one beer combined with an almost total lack of sleep knocked me out, otherwise I would have been my normal boozy self.
And now for the Meatwavers, this time all family. First and foremost was my Mom, who made this all possible. She's sitting here with my fantastic Poppy.
Jeanne and Ronny get the next shout out for their impeccable hosting skills. For the sake of collective comfort, we decided not to cram a ton of people onto my deck for once, and my Aunt and Uncle were right there to pick up the important host responsibility.
Then we have my Aunt Renee, who braved GW construction to come from New Jersey, and Barry, the only other person who had watched all four seasons of Breaking Bad and was just as eagerly awaiting 10pm for the 5th season kick off that night as myself.
Rachel and Chuck were there as well, who are making a good run at being the best Meatwavers this season.
To end it, I give you JoJo, who was there to eat all scraps, and even dumpster dove to remove and devour discarded chunks of beef fat. There were concerns that this would later lead to some unpleasant stomach conditions, but I'm sure it was all worth it.
Great family and great food, this was a very special Meatwave that meant a lot to me and all involved, representing the support everyone has given me on my new Meatwave endeavors, along with warm feeling of giving back, and seeing how happy it made everyone.
You Might Also Like
Comments
Chris No better way to spend time with family than to stuff them with great food. Good luck on your sauce endeavor. You should send a jar to that Josh Bousel dude, he reviews them ;)Posted Sun, Jul 22 2012 2:25PM