Sunday Gravy
The Indian Summer we had going on here in New York seems to have come to a close today, and with the cool fall weather starting to settle in, nesting will surely become commonplace. As we all start to cozy into our indoor lives, I find myself with more time to take on larger grilling projects, and this Sunday Gravy may be one of the most ambitious I've ever done. In terms of time from start to finish, it surely doesn't touch a slow smoked brisket or pork butt, but it does demand much more activity. In total you'll be working nearly four hours to develop this rich and hearty red sauce, but that is time well spent.
This recipe was a request from my editor over at Serious Eats, Kenji, who imagined a Sunday Gravy—an Italian-American meat sauce—cooked in its entirety on the grill. When I first said yes to tackling this, I wasn't fully aware of just how much work it would require. See, Sunday Gravy is not just a simple ground beef and tomato sauce simmered for hours, but one that gets its incredible depth from a plethora of meats in all different forms.
This required not only procuring meat from the butcher, but assembling items that would normally stand alone as a meal in itself. The first of the meats I assembled were meatballs, which were a variation on the delicious cheese-spiked version I've done many times with great success.
Next I prepared an entire beef braciole. Like the meatballs, I've done a recipe for an exceptional braciole before and took inspiration from that, but cut down some of the ingredients to make it more friendly on the pocket book given how much else was going into this sauce already. To make the braciole, I butterflied a one-pound piece of flank steak, laid on a bed of breadcrumbs, prosciutto, Parmesan, parsley, and garlic, then rolled and tied it up.
Next came the tomatoes, and a sauce that serves at least ten people takes quite a lot. Halved romas filled the entire surface of my 22-inch kettle, where they cooked until they developed grill marks and were slightly softened.
As the tomatoes cooled a bit, and the grill was still at its hottest, I cooked off the first couple meats—pork ribs and spicy Italian sausage. Since both of these would cook fully during the long simmer of the sauce, I was only looking to give them a nice sear to get a little flavor of the grill in there. This took around ten minutes each for both the ribs and sausages.
The tomatoes were then run through a food mill and the process of making the actual sauce began. Because the sauce needs to be done in a large pot, this part of the recipe could have been done completely inside in the stovetop, but I used the heat still going on the grill to get it started, moving the sauce inside only when it was time to refuel.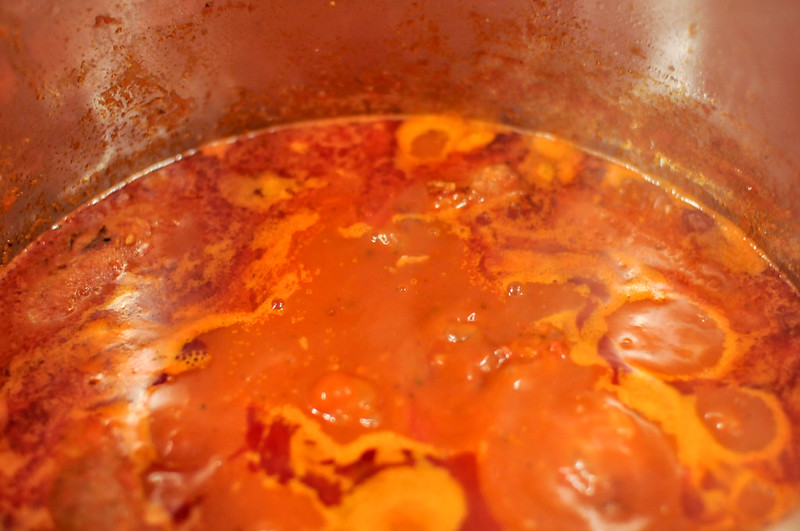 Onions were softened, then garlic, oregano, and red pepper mixed in until they were all fragrant. Next, the tomatoes were added in, along with chicken stock, red wine, the grilled ribs, and sausages. The whole thing was stirred and left to slowly simmer for about three hours.
As the final hour of simmering approached, I got a fresh batch of coals going to grill off the meatballs and braciole I had prepped now about four hours prior. The meatballs grilled up quickly, about eight minutes total to brown them evenly over high heat.
The it was the braciole's turn, which took around fifteen minutes to have it nicely seared and looking delicious. Then both the meatballs and braciole were added into the simmering sauce, which cooked for another thirty minutes.
At this point, a mere five or six hours later, the sauce was done. The meats that were still intact—the meat on the ribs fully softened, fell off the bone, and became one with the sauce—were removed from the sauce, which was finished up fresh basil, salt, and pepper.
The final chunky red sauce was a powerhouse of meaty flavor with an equally substantial feel. The time that went into making it could be tasted through the depth of flavors developed, not only by the grill—which lent a very light smokiness—but how the liquids slowly condensed, intensifying their natural flavor while taking in those of the meats as well.
I served the sauce over bowls of homemade tagliatelle, with the meats offered up separately. Some chose to enjoy those cheesy, sauced soaked meatballs or tender braciole on their own, while others introduced them back into their pasta to be consumed in one cohesive meal. Either way, this was certainly one hefty and comforting meal, which is exactly what I wanted after all the time and effort that went into making it.
Sunday Gravy
Yield 10 servings
Prep 1 Hour
Cook 4 Hours
Total 5 Hours
Ingredients
For the Beef Braciole
1/4 cup toasted breadcrumbs
2 ounces thinly sliced prosciutto, cut into 1/4-inch-wide matchsticks
1 tablespoon grated Parmesan
1 tablespoon finely chopped fresh parsley
2 medium cloves garlic, finely minced (about 2 teaspoons)
2 tablespoon olive oil
1 lb flank steak, butterflied
For the Meatballs
3/4 pound ground beef chuck
1/4 pound ground pork
1/2 cup toasted bread crumbs
1 large egg, lightly beaten
1/4 cup grated Parmesan
1/4 cup grated Pecorino Romano
1 tablespoon finely chopped fresh parsley
1 medium clove garlic, finely minced (about 1 teaspoon)
1/8 teaspoon red pepper flakes
6 pounds roma tomatoes, halved (about 16 medium tomatoes)
1 rack baby back ribs, peeled and trimmed of excess fat
1 pound hot Italian sausage
1/4 cup olive oil, plus more for brushing braciole and meatballs
2 cups finely chopped yellow onion (about 2 small)
4 medium cloves finely minced garlic (about 4 teaspoons)
1 tablespoon dried oregano
1/2 teaspoon crushed red pepper
1/4 cup tomato paste
2 cups low sodium store-bought or homemade chicken broth
1/2 cup dry red wine
1/3 cup finely chopped fresh basil leaves
Kosher salt and freshly ground black pepper
---
Procedure
To make the beef braciole: in a small bowl, mix together breadcrumbs, prosciutto, Parmesan, parsley, garlic, and olive oil. Open up butterflied flank steak, arranged so the grain of meat is parallel to you, and season exposed side with salt and pepper. Spread bread crumb mixture evenly over the beef, leaving a 1/2-inch border along the side furthest from you; press and gently pack the stuffing mixture onto beef to keep it in place. Starting from the side nearest to you, roll up meat like a jelly roll, pressing any stuffing that falls out of the ends back into roll. Tie beef tightly with twine, spacing ties evenly about every 1 1/2 inches. Season outside with salt and pepper all over, wrap in plastic wrap, and refrigerate until ready to grill.
To make the meatballs: In a large bowl, mix together chuck, pork, bread crumbs, eggs, Parmesan, Pecorino, garlic, parsley, and red pepper flakes until thoroughly combined. Roll out meat mixture into balls 1 1/2 inches in diameter. Season meatballs all over liberally with salt and pepper. Refrigerate until ready to grill.
Light one chimney full of charcoal. When all charcoal is lit and covered with gray ash, pour out and spread the coals evenly over entire surface of coal grate. Set cooking grate in place, cover grill and allow to preheat for 5 minutes. Alternatively, light all the burners of a gas grill to medium-high heat. Cover and preheat for 10 minutes. Clean and oil the grilling grate. Grill tomatoes, cut side down, until they have grill marks and start to blacken, about 5 minutes. Remove from grill, let cool, then process through a food mill fitted with largest disc set over a large bowl.
Season ribs liberally with salt and pepper. Grill, meat side down, until well browned. 5 to 10 minutes. Slice into individual ribs and set aside.
Grill sausage until well browned all over, 3 to 4 minutes per side. Set aside.
Place large stockpot or dutch oven on grill and add in 1/3 cup olive oil. Heat until shimmering, then add onion. Cook, stirring occasionally, until onions are lightly browned, about 8 minutes. Add garlic, oregano, and crushed red pepper and cook until fragrant, about 30 seconds. Stir in tomato paste and cook for 2 minutes. Stir in reserved tomatoes, chicken stock, and red wine. Bring sauce to a boil, then nestle ribs, and sausage into sauce. Let simmer for 2 to 3 hours, replenishing coals or moving stockpot to stove burner as needed.
Replenish coals on grill. Brush meatballs with olive oil and place on grill and cook until well browned all over and cooked through, about 8 minutes total, 2 minutes per side. Set aside.
Grill beef braciole until well browned on all sides, 3 to 4 minutes per side. Set aside.
Nestle meatballs and braciole in sauce and simmer for 30 minutes more.
Remove meats from sauce. Stir in basil and season sauce with salt and pepper to taste. Serve sauce over freshly cooked pasta, serving meats separately.
You Might Also Like
Comments